Preparation to apply vinyl self adhesive graphics and decals will evoke many opinions and theories as to "the definitive method" to prepare, place and finish this process. After thirty five years of being around and supplying some of the innovators,originators and some might say legends, tipping a respectful nod to the late, great Mr.J.Leadley, in the vinyl sign and auto custom styling industry.The Vinyl Corporation can state with absolute certainty that there is Not one method that suits ALL applications or applicators! so let's explore some of the possibilities; firstly the key to ALL  successful vinyl applications is:
PREPARATION, PREPARATION and PREPARATION                                 
The intended surface or substrate that is about to be adorned with the Decal or Vinyl Graphic must be free from all contamination, visible or not, especially focusing attention on removing grease, silicone, traffic film, PDI Wax or any other impurities that will prevent good adhesion between the substrate and the adhesive on the reverse of the vinyl graphic, wrap or signage and experience shows us that the preferred products to undertake this task with are the AVERY SURFACE CLEANER, which happens to be on SPECIAL OFFER at £9.50 per bottle reduced from the great price of £12.50 ! or the RAPID REMOVER available in the US Gallon bottle or the one shot trial sized bottle as shown below
THE RIGHT TOOLS FOR THE JOB
The vinyl applicator/ installer or Sign fitter will have their own individual preference as to whether a hard or soft, plastic or felt SQUEEGEE will be the best tool for the particular project that is being undertaken, for wrapping printed vinyl such as the MPI 1105 Cast vinyl the RED EXTRA FLEX SQUEEGEE  will usually be selected, whereas for the installation of large flat panels of ORAJET 3164 the NEW BLUE FELT SQUEEGEE will be a popular choice and  for standard ORACAL 651 vinyl graphic applications The Vinyl Corporation will recommend the GOLD SQUEEGEE. The MACTAC FELT BLOCK is always a popular choice for the fleet installers, but it really is which applicator or squeegee the installer is most comfortable with, to deliver a good even pressure through each stroke of the blade.
WET OR DRY APPLICATION?
For many years this has been the source of controversy amongst Vinyl Installer as the "Old Skool" fitters and stripers believe that all graphics should be fitted dry and cut in on the vehicle ( brave but skillful – always check that insurance policy!) quite a lot of installers that fit small intricate work will use a "Slip agent" which can be Rapid Tak or even Fairy liquid or clear water so that they get a second chance of getting the registration and alignment correct, but now technology has had a hand with Vinyl products and introduced Easy apply, bubble free, Rapid Air adhesive systems that allows air to egress and so bubbles under the surface are no longer a problem, also wraptape and other cutting tapes can now be used rather than relying on the installers scalpel skills. Generally we tend to find that large window graphics will be applied wet in the Summer months, so as to calm the adhesive down and making it less aggressive,whereas in the colder Winter months applying graphics on a shop or cafe window really should be applied dry . . . or the job could take a very long time separating the APPLICATION PAPER
from the graphic, whilst leaving the vinyl adhered to the cold glass window, but it really is a matter of personal preference as there are no hard and fast rules that govern whether the vinyl fitter applies wet or dry, but it is also a matter of confidence and ability to get it lined up and on straight the First Time.
HINGING with masking tape or TACKING
The technique of applying large vinyl graphics will depend on the size, shape and location of the vehicle and if there are two installers, or one with his ubiquitous AVERY VEHICLE MAGNETS, along with many instructional courses a quick and practical demonstration can always be viewed on Youtube channels, but as with most practical skills it comes down to practice, practice and more practice, after years of varied and difficult projects the exact method that is adopted is down to the personal skill and ability of the individual. As previously mentioned the types of projects tackled can vary tremendously from a full colour change Wrap with AVERY SUPREME WRAPPING FILM or the excellent ORACAL 970 RA through to a fleet of Supermarket lorries and internal signage to a boat name being applied whilst in the water! one of our very established installer advertise that he will tackle any vinyl installation job as long as it is "Static and Accessible" yes he supplies and installs a lot of aircraft numbers and decals as well as Formula One race graphics.
HEATING DOWN or SEALING the edges
Clearly with certain applications such as wrapping, whether that is colour changing,
Chroming or applying printed wraps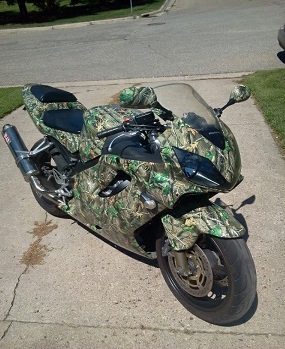 heat must be applied to the vinyl prior, during and especially post wrapping but for standard flat or simple curved surfaces , in the Spring or Summertime then additional heat from the heat gun or hair dryer should not be required. However, if compound, complex curves or rivets are being negotiated the heat is always a major assistance, always giving extra care when applying REFLECTIVE VINYL as bruising can occur and seriously affect the reflectivity of the graphic.The marine industry used to use a small layer of yacht varnish on the leading edge of Vinyl Graphics that were near the waterline, but with modern adhesives and wrapping vinyl it really is not necessary when using a quality grade wrap such as the AVERY SUPREME WRAPPING FILM or the ORACAL 970RA
DEDICATED HELPDESK
The Vinyl Corporation has recently formed a dedicated helpdesk, so if any help, advice or product specifications are required please call The Vinyl Corporation on 0115 930 1133 or email dmtvc.march @btconnect.com and it will be our pleasure to help and assist you with your current or next vinyl project.